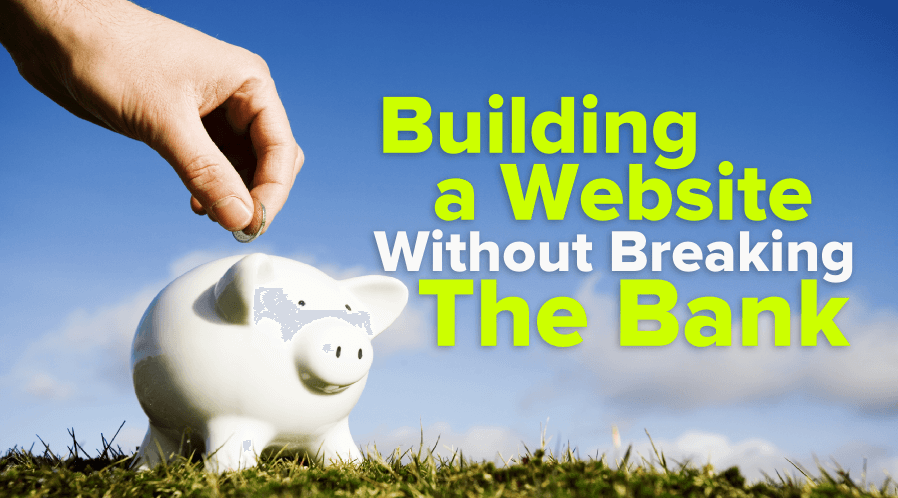 Build and maintain a website without breaking the bank
Website projects can become very expensive undertakings when left unchecked and open-ended. Over the years, I have heard a wild variety of website quotes given to the every day small business, landing in the 5 to 6 figure range. That's nuts! While creating and maintaining a website is a critical part of running any modern business or organization, it can be difficult to identify where you should spend money and where you should try to do things cheaper. With a better map of where to spend and where to save, you can, however, make building and maintaining a website more affordable.
Upfront Considerations
Before you maintain a website, you have to build one, and the decisions you make during the initial build will dictate the types of savings you may be able to realize further down the road. If affordability is a key goal of your project, it's important that your website be built by a competent professional services provider. You can sit down with the developers and discuss the demands of your website and how to make it more affordable to operate over the long run.
Foremost, you want a website that has a backend designed to allow you to create and curate as much content as possible without outside assistance. This means discussing options such as the type of content management system that will be employed. You should also examine how the social media presence is integrated into the site. If you're planning to sell directly from the website, then you'll also want an ecommerce system that allows you to easily add remove products as your inventory evolves.
Different website design firms approach these issues in different ways. Many firms that have lower upfront costs build their business models around charging customers for maintenance of the website. If you're seeking the most affordable long-term solutions, these cheaper upfront options are to be avoided. It's better to spend more money in the development phase in order to have a highly maintainable backend that you'll use for many years to come.
A Maintainable Backend
There are a number of backend systems available today for maintaining your website, such as the popular WordPress platform, and it is likely that the firm working on your website will employ one of these systems. When you discuss the development process, you should let the folks building your website know that this is the type of option that you need. You'll want a backend that allows you to make minor modifications to the design template for the site. More importantly, however, you'll want something that allows you to easily add content, such as blog entries, new products and social media postings.
Content
One of the easiest ways to keep the cost of a website down is to produce the content yourself. Content is what attracts people to your site, and you're most likely the person best equipped to produce it anyhow. If you're not paying a marketing or SEO firm to produce your content, then you can easily pocket the savings.
How do you accomplish this?
First, where possible, you want to produce as much photography for your website yourself as possible. If you're posting a large number of product photos, you can invest in a digital camera to take the photos and a lightbox to stage them. A good lightbox will provide you with a setup that produces results that are close to studio-quality without having to hire a pro photographer to do the work.
Second, when something needs to be written, write it yourself. You should brush up on the basics of writing for SEO, but in most cases good spelling and grammar will be more than sufficient to do the job. Every article or product description you write yourself is money that you save. As a person with expertise in the subject matter, you're more likely to generate content that visitors will care about anyhow.
Third, manage your social media presence by yourself. This entails maintaining a disciplined schedule and staying on point. The biggest thing you pay for when having someone else managing your social media is consistency and discipline. If you're running a business, that should already be a given for you.
Finding the Right Designer
Knowing what you need is only half the battle. Finding the right designer is still a critical part of the process. There are lots of firms all over the world who will say they can tackle your project, so the question becomes about finding the one that's right for you.
First, you'll need to assemble a list. You can look through professional services directories, such as Angie's List, and see what ratings they've drawn. You may also want to discuss web design firms with any other business owners that you know and hear what their experiences were. Likewise, you can visit your local Chamber of Commerce and find out about web design firms in your area, although you should consider casting a wider net, especially if your site requires higher end functionality or a great deal of customization.
Second, you want to know what systems the design firm you're hiring prefers to use. They should have demo versions of their backends available for you to try, so you can become familiar with it and gain a sense of whether it's right for you.
Third, you should ask for references from their previous clients. This will allow you to hear cases where they have used the end product from the design firm in order to learn what the pros and cons of their system might be. You'll also learn how the design firm has evolved along with the customer's needs and about the quality of service provided.
Have Your Materials Ready
The amount of time that the design firm spends prepping materials all comes back to you in the form of a bigger bill. The more materials you have prepped before you start the process, the cheaper it will be. This means having critical elements of a website, such as high-res copies of the logo, ready before you ever sign a contract. If you have original production files from designers on-hand, that's best, but in most cases a web designer will be able to get by with a high-quality JPG file.
You should also have any critical text already written. This includes address and contact information, slogans, marketing phrases and any main body text that will appear on the site.
Getting Started
At Talking Monkey Media, we help companies and organizations that are working to establish a web presence, and our team takes pride in finishing projects quickly and for a reasonable rate. We can build the right website for your business and help you learn how to make the most of it. Get in touch with us today to learn more about the range of options we offer for businesses that want to establish a website as soon as possible and for a fair price.
The following two tabs change content below.
Blair Neher
Chief Primate
at
Talking Monkey Media
Blair Neher is the owner/operator of Talking Monkey Media, a web solutions company based in Richmond, Va. Blair writes about all things Web and Small Business related. Read more
About Talking Monkey Media
. Connect with Blair on
Google+
,
Twitter
, or
LinkedIn
.
Latest posts by Blair Neher (see all)